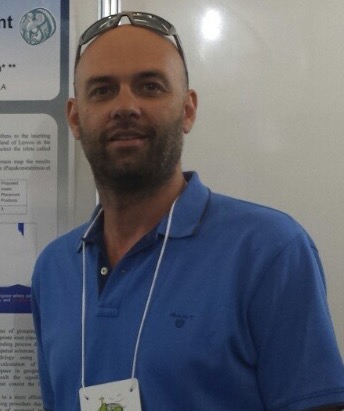 Dr. Papakonstantinou is currently a Contracted Lecturer at the Department of Civil Engineering and Geomatics at the Cyprus University of Technology; he is also an affiliate of the of Cartography and Geoinformatics Laboratory of the University of the Aegean. He holds a Ph.D. in the field of "Geoinformatics" with specialization in Cartography and scale issues in Geovisualization from the Department of Geography, University of the Aegean, an MSc in "Cultural Informatics and Communication" from the Department of Cultural Informatics and Communication, University of the Aegean, and a degree in Physics from the University of Ioannina. Dr. Papakonstantinou was a Contracted Lecturer (PD / 407) in the Geography Department, University of the Aegean, teaching the courses Introduction to Cartography and Thematic Cartography. Last, he has teaching experience as a research associate and teaching assistant in courses related to Geovisualization and GIS.
Dr. Papakonstantinou has also been involved in research groups and research projects of the University of the Aegean and the Technical Educational Institute (TEI) of Central Macedonia in the Dept. of Informatics. His research interests include Cartographic visualization and Geovisualization; his work combines new methods and techniques in cartographic representation, scale issues and 3D geovisualization, emphasizing cartographic 2D & 3D representation of spatiotemporal phenomena and 3D animation. His current research focuses on "The potential use of UAS (Unmanned Aerial Systems) in cartographic and 2-3D Geovisualization applications", investigating the creation of a robust pipeline in spatial data acquisition and mapping when derived from low-cost cameras operated from lightweight platforms. Additionally, his research focuses on the creation of very high  resolution geovisualizations for mapping sea grass in selected areas of the Aegean coastline, as well as mapping and 3D geovisualization of coastline erosion.
Dr. Papakonstantinou's research has been published in international journals, edited book chapters, atlases, and papers in proceedings of international conferences in the area of UAS in Geovisualization, scale issues in cartography, 3D Cartography and the development of computational methods and algorithms for automated cartographic representations. He was the cartographic editor of the "Atlas of the Greek Islands", and has developed a large number of maps for research projects. He serves as a reviewer for the following international journals: ISPRS – International Journal of Geoinformation, MDPI – Remote Sensing, MDPI – Geosciences, Journal of Surveying and Mapping Engineering (JSME), Convergence: The International Journal of Research into New Media Technologies.